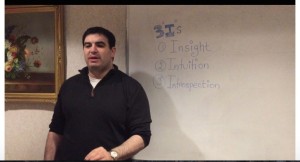 STUDYING NOT TESTING IS
THE KEY PATH TO SUCCESS
BY MR. JUSTIN BUFFER, MSE, FOUNDER, OWNER, AND EDUCATIONAL DIRECTOR, CAMBRIDGE LEARNING CENTER OF NEW JERSEY
***************************************************************************
As the owner and founder of Cambridge Learning Center, I've come into contact with many parents who are under the impression that in order to better prepare themselves for testing, their children should simply take more practice tests. There's a belief that being subject to repeated testing – over and over again – will make students perform better.
I'd like to share that this is a mistaken belief. In my experience, the value of repeated "practice testing" is entirely overestimated.
For no form of preparation in advance of testing is as valuable as studying.
If students do not sit down in a sincere pursuit of knowledge, they will never be adequately prepared for testing. Moreover, although practice tests do have their place, and our students take them frequently and regularly here at Cambridge, students will never be able to maximally improve their test performance without assiduously reviewing the mistakes they made during practice.
Why did I make that mistake? What's the right answer? What do I need to know to avoid repeating what I did wrong last time?
These are the kinds of questions that students should be comfortable with, and they only crop up in the course of genuine study.
Think of it like getting good at playing music. If you just keeping playing the same song over and over again, you probably won't break through and improve. But if you work with a teacher who can set you on the right path and identify all the weaknesses that have to be addressed, then you're on your way to improvement.
Likewise, do you think an NFL team can become great just by playing enough games? Of course not. In between those games, during practice, they have to work out their strategies and iron out their issues.
To be sure, a measure of practice testing can have value. But it's generally not the value some parents expect. Practice testing can be useful for building stamina and reducing the odds of a student's skills faltering during test time due to fatigue. So being in test mode for a while, as practice, can often help to ready the mind for real testing on some level.
But the students who truly end up excelling on their tests are the ones who buckle down and study. That calls for sitting down and concentrating. It means working with flashcards. It means reading, reviewing, repeating, and refining. We have developed a study plan for this process at Cambridge.
As the old expression goes, "Practice makes perfect."
But I'd like to add the footnote that it has to be the right kind of practice. When it comes to test preparation, study is good, but testing is not the answer.